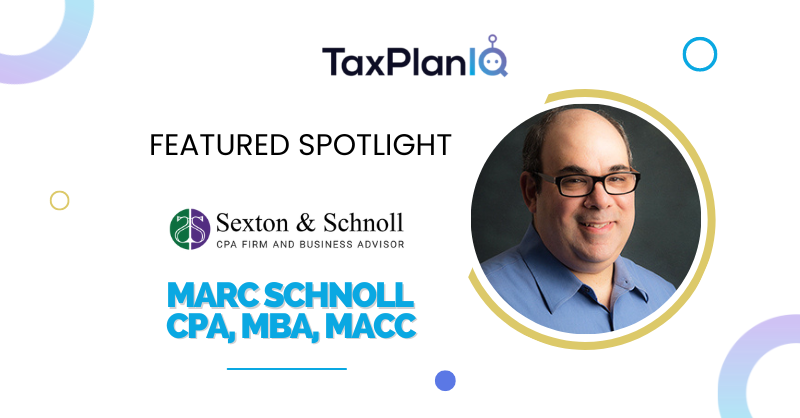 TaxPlanIQ is committed to the ongoing education and implementation of tax strategies. Periodically, we feature TaxPlanIQ users who have experienced great success utilizing our software and strategies. These users share their best practices with the greater tax planning community in order to foster success, growth, and sustainability of business via the TaxPlanIQ software.
Recently, Marc Schnoll sat down with our TaxPlanIQ team, to discuss the ways the TaxPlanIQ software has changed his business. Marc is a CPA based in central Florida.
Marc shared that since using the TaxPlanIQ software, his business has been transformed. Marc uses the TaxPlanIQ software to help the screening of new clients to evaluate if they are good candidates for tax planning. This has created a great increase in revenue for his firm.
Effective TaxPlanIQ Strategies
One strategy Marc utilizes within his firm is leading with tax planning. Marc initially started by mining his client list to evaluate whether his existing clients might be good candidates for tax planning. He also seeks out new clients who could benefit from a tax plan. When meeting with a new client, Marc first determines if they are a good candidate for tax planning. He admits that not everyone is. He always asks "What are we trying to sell here?" If he sees a tax planning opportunity, that's what he leads with. Marc does tax planning for clients throughout the year. Any time a possible client arises he is prepared to press forward. During the busy tax season, if he sees a tax planning opportunity during his process of preparing a tax return, he will make a note of it and return to it later.
Another effective strategy that Marc discussed, is to reach out to current clients who may not know you offer tax advisory services. While these individuals may not be candidates for a tax plan at the moment, their circumstances may change in the future. Providing each client with the knowledge that you can help at any stage of life is an invaluable way to market your services.
Measuring Success with TaxPlanIQ
While Marc does not have a specific system in place to measure success with TaxPlanIQ, he does measure his tax planning revenue separate from non-tax planning revenue. Marc has used other tax planning software in the past, but finds TaxPlanIQ to be easier and more efficient to use. The production of the deliverables used to take hours and hours, but with TaxPlanIQ it is much faster.
Current Challenges and Constraints
When discussing the primary constraints and challenges in his tax planning practice, Marc shared that he desires to be doing more tax planning. While he is the only one currently preparing tax plans, he would love to bring in others from his office to become more involved in the process. Having this team ready and in place will streamline the efficiency of adding additional tax planning clients.
TaxPlanIQ can help to train staff for this very situation! We have a team of experts ready to help you take your tax planning system to the next level. Join our Masterclass where you and your team can learn how to create, implement and maintain tax strategies. Check it out here: Certified Concierge Tax Accountant
Advice for Tax Planners
We asked Marc what advice he would give a tax advisor who is just starting out. He had a wonderful response! Marc started by saying, "Whatever you think you want to charge – charge more." This is a great tip. Here at TaxPlanIQ we talk a lot about value-pricing your work. You are worth your expertise! Marc also encourages others to be willing to change and experiment. He wasn't thrilled with the direction that his practice was going, and he thought tax planning might be the answer. It has absolutely revolutionized his business. Don't be afraid to try. Know that there is a better way and be willing to go after it. Marc encountered some challenges with other competitors in the tax planning industry, but he didn't give up. He was willing and open to continue looking until he found the answer he needed. That answer was TaxPlanIQ!
We want to thank Marc for sharing his thoughts and ideas with the accounting community! We are looking forward to seeing the great work he does in tax planning.
For more information about TaxPlanIQ visit us here: taxplaniq.com
For more information about our coaching program visit: Certified Concierge Accountant