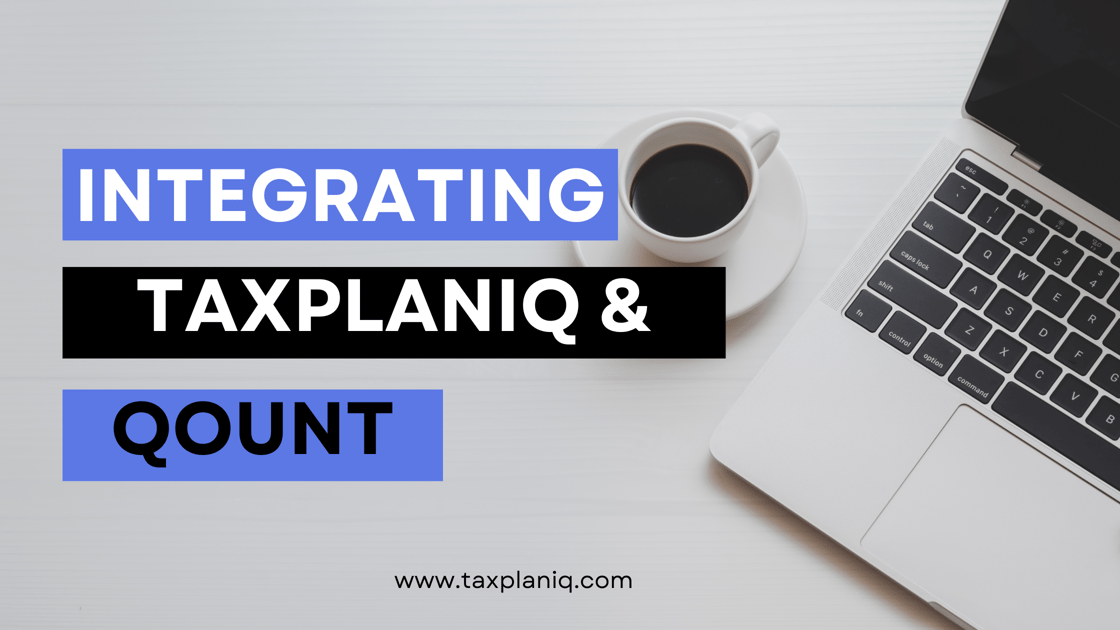 Utilizing the right software is necessary to boost your business. Software can help streamline tasks, enhance organization, and improve accuracy. If you are looking to grow your CPA Firm, choosing a software that can help develop a particular part of your business is vital.
Today, we'll introduce you to a dynamic combination of software for the accounting world: Qount and TaxPlanIQ.
Two Specialized Areas of Focus
TaxPlanIQ and Qount (pronounced count) are rising stars in the tax planning and practice management realms. Before we get too far ahead, let's take a step back and identify these two at their roots.
Qount
Qount focuses on the practice management side of accounting and is the first SaaS to directly integrate with TaxPlanIQ!
Qount is ideal for firms offering:
Accounting

Bookkeeping

Tax Preparation

Audit

Tax Planning

Tax Resolution

Fund Accounting
TaxPlanIQ
TaxPlanIQ is a tax advisory tool with a passion to educate, equip, and empower the tax planner to propose, sell, and manage the entire tax advisory engagement. The main idea is to help tax professionals elevate into tax planners in order to assume more advisory, consultative roles.
The program is excellent for both the client and the tax firm.
For the firm, it can provide benefits such as:
Additional revenue sources

Reduction in hours while increasing the number of clients
For the client, it provides benefits such as:
Tax savings

Tax efficiency
Essentially, there are two tiers of membership when it comes to TaxPlanIQ's integration: TaxPlanIQ-only subscribers, and TaxPlanIQ + Qount subscribers. The main difference centers around the workflow components found in TaxPlanIQ. Because TaxPlanIQ is based on Qount, there are natural workflows designed within the program. By being a TaxPlanIQ-only subscriber one can still see some of the workflow advantages that Qount uses. These are built directly into the TaxPlanIQ program. On the flip side, TaxPlanIQ + Qount subscribers get to see and take full advantage of the workflow components and fully integrate TaxPlanIQ into Qount. This opens up a world of possibilities between the two.
Workflow Properties
Because the programs work well together, there are many opportunities to use each of them concurrently as a tax planner. Here are a few ways to use TaxPlanIQ within Qount:
#Tasks

Once a tax strategy has been created, task management can be utilized to track that strategy. A set of tasks can be established between your own personal workspace and that of your teammates, which can be accessed directly from TaxPlanIQ. Tasks can also be generated within Qount under various dates and checklists.

#To Do List

Directly from your tax planning world, one can create a to do list, or specific events for clients to respond to.
In short, #tasks are for the operator (you) and #todos are for the clients. These properties are integrated between the two programs.
Another interesting feature, is the #Clients section. This integration speaks between TaxPlanIQ and Qount, creating a unified database of clients. The #Clients section in Qount will auto-update as any TaxPlanIQ clients are added.
Also included is the #Engagement Letter workflow. As we know, engagement letters are a significant piece of tax planning. With TaxPlanIQ, engagement letters can be created and progress can be tracked within Qount's Engagement Letter workflow.
We finish with the #E Signature component, which is related to the engagement letter; however, this could be utilized for any document needing an e-signature.
In summary:
#Clients - client data

#Tasks - for you or teammates

#To dos - for the client

#Engagement Letter - tracking engagement letter workflow and progress

#E-Signature - utilization of e-signature capabilities as they pertain to engagement letters, or other documents needing signatures
It's important to note that the features and workflows mentioned in the section above are for those who have a subscription to Qount as well as TaxPlanIQ.
Continuous Improvement
Be on the lookout for updates in TaxPlanIQ's pricing model. The above information is still accurate; however, there has been discussion about rolling out a new pricing model that would be based on the usage of the program, and less of a subscription based model.
An effective tax planning practice does tax advisory all year long. The new usage based model will help tax planners get the most out of their access year-round, instead of only during busy seasons. The flexibility in regards to budget allows the program to be more user friendly. This expected change could take place as soon as late April/early May.
The last thing we'll mention about TaxPlanIQ is its ability to complete both individual tax planning and business related tax planning. The program can achieve both; however, the effectiveness is found in holistically planning for the client whether they have personal demands, or demands from a business.
To read further on Qount or TaxPlanIQ, check out their blogs here:
If you want to add both Qount and TaxPlanIQ to your firm for optimal efficiency, email our team at Support@taxplaniq.com.